Plastic has become a hugely contentious issue in recent years, with more awareness being raised about the problem of plastic leakage into the environment.
Plastic can also be problematic when virgin materials are used to create new products, with the process using 75% more energy than recycling plastics. But recycling plastics in itself can be a challenge, with different grades requiring different treatment routes, and complex legislation presenting obstacles.


We have expanded our plastic recycling capabilities in the UK, with three sites (in London, Essex and the Midlands) dedicated to the recycling of 100 different grades of plastic. These will be from consumer, commercial and industrial sources, increasing the scale of recycling by 8,000 tonnes per year. The service will include the full process of the collection of materials from homes or businesses, recycling of the materials, then turning them into pellets for the production of new plastic products.
Some examples of the plastics that will now be able to be recycled at the facilities are: 
High-Density Polyethylene (HDPE)
used to make
bottles and carrier bags
Polypropylene
(PP)
used to make
yoghurt pots and bottle tops
Polycarbonate
(PC)
applications such
as CDs and DVDs
What will be the benefit of this?
Significantly increasing our recycling capabilities in this way will help us to contribute further to creating a circular economy, as it will reduce the need for virgin plastics and enable the repurposing of plastics that are not commonly recycled. This latest development in plastics recycling enables us to get one step closer to reducing the need for virgin plastics across commerce, industry and communities.
If all plastic were recycled this could mean annual savings of 30 to 150 million tonnes of CO2.
We can now process 100 grades of plastic from industrial,
commercial and household sources.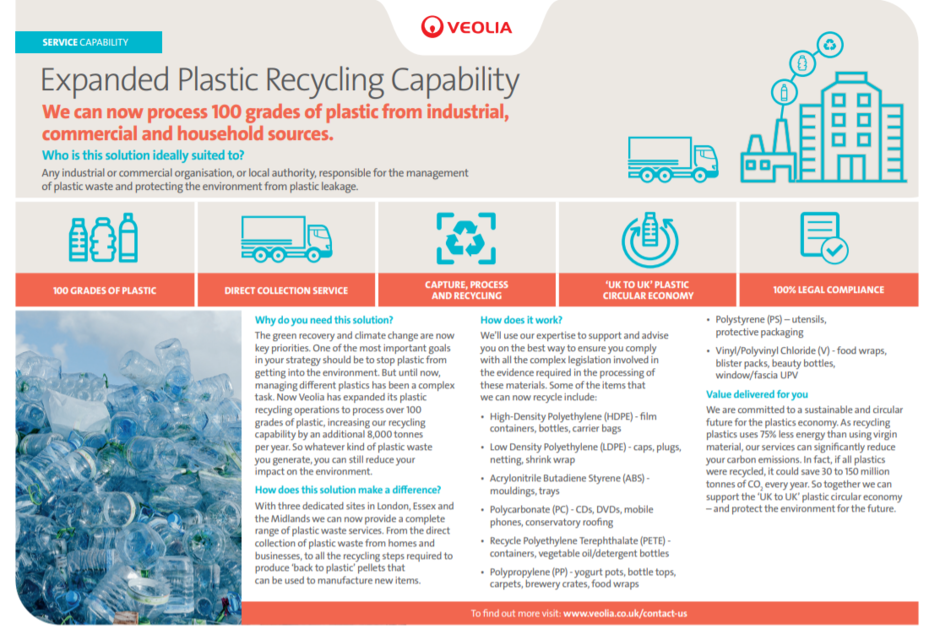 Our plastics recycling capabilities in action
An example of Veolia's work to increase plastics recycling and promote a circular economy has been our project with a popular fast food restaurant chain which no longer gives away plastic toys with its children's meals. Having made the decision to change, they needed to find a way to recycle 300 pallets of overstocked toys being stored in distribution centres.
Thanks to our ProCycle service and our developing capability to recycle hard to treat items, we were able to offer them a solution which would enable the toys to be turned into new products. As a fantastic example of promoting the circular economy, materials from the recycled toys have been used to manufacture playhouses, Christmas baubles and more.
The team at Veolia set a challenging task - to recycle the 'non-recyclable' Happy Meal toys. Not only did they find a solution to recycling, but also found a partner to create the play equipment for RMHC.
Do you produce complex plastic waste that you have been told is difficult to recycle?
Let us help you find a solution, to enable you to play your part in the circular economy.