If you can't wait for applications to open or can't find the right opportunity, then feel free to register your interest.
Leaving school, or looking for a fresh start?
Our range of Apprenticeships could be what you're looking for. From mechanical engineering and HGV driving to business administration and finance, with us, you can take that huge first step.

The climate crisis means we have to find radical and meaningful solutions to solve it, and Veolia is leading the drive. Our apprenticeships scheme puts you at the forefront of ecological transformation. Join us for the opportunity to make an impact that will be felt for generations to come.

Apprenticeships are an excellent way to achieve a debt-free qualification that'll help you pursue a career in your chosen field. And one of our wide range of apprenticeships could be exactly what you're looking for.

We want all our apprentices to be able to contribute towards our purpose of protecting the planet's natural resources, while supporting the communities we work in. We understand that university and college aren't for everyone. So, by combining the practical on-the-job training and off-the-job learning, our apprenticeships are a great alternative to a traditional way of learning. They'll provide you with vital work experience and a nationally recognised qualification, all whilst getting paid. Our aim is to invest in your talent to unlock your full potential and set you up for success from the start.

Even after you finish the apprenticeship, you can continue learning for as long as you want to. We're strong believers in continuous development and actively encourage and support all our people to keep going.
Long gone are the days of stereotyping apprenticeships as 'just something for school leavers'. Apprenticeships can be for anyone, at any age. Whether you're just starting out in your career, fancying a change or you want to grow personally, apprenticeships are a great way to learn new skills and gain experience, and it's something that benefits both our purpose and you.
We're committed to employee safety and wellbeing, and we operate a comprehensive employee assistance programme. Our apprentices receive support from both managers and mentors, who are dedicated to helping them make the most of their programme.
Veolia is an inclusive employer and we encourage applications from all parts of our society. Within the company, we have a number of specialist groups that support ex-armed forces, LGBTQ+ colleagues and those who are disabled. We're more than happy to discuss any necessary adjustments or arrangements that might help support your application.
Many of our employees started their careers as apprentices. They're the ones who'll be working alongside you and helping you to develop in your own career.
Apprenticeship Opportunities
Starting or changing your career can be daunting and scary. The choices and changes you are about to make are often tough, and it's easy to feel you might not have the experience to join a big company like Veolia. But, if you're passionate, have the desire to learn and want to help lead ecological transformation, we want to hear from you.
Join us and you'll learn from the best, as you work on projects that have a real impact on our environment. You'll also get the chance to develop new skills and existing ones, as you start to build an impressive career.
We offer a range of apprenticeships which are delivered internally by our in-house apprenticeship specialists, such as:
Large Goods Vehicle Driver Level 2
Business Administration Level 3
Leadership & Management Level 3 - Team Leader
Leadership & Management Level 5 - Departmental Manager
Waste Resource Operative Level 2

We also offer apprenticeships through a variety of high-quality training provider partners such as local colleges, national training providers and universities. These range across areas such as digital, engineering and manufacturing, IT, finance and HR:
Engineering Level 3/4 - Various Pathways from Electrical and Mechanical Engineering to Level 6/7 Degree Engineering
Heavy Goods Vehicle Service and Maintenance Technician Level 3
Data Analyst Level 4
AAT Level 3
Customer Service Level 2/3
Accountancy Professional Level 7
HR Support Level 3
To apply online, all you need to do is follow our application process. It's how we keep things consistent and fair for everyone. You may find it a bit of a challenge, but don't worry! It's what helps us to see your potential.
Following the online application, your next task is to complete a few interactive gamified challenges. If you are successful in this part of the process, we'll invite you to attend a virtual assessment day and then a face-to-face site visit.
At each stage, a colleague from our Early Careers team will be in touch to let you know how you did and if we'd like to see you again. We know how important feedback is, so we'll share constructive commentary whether you're successful or not.
Before you apply, the best thing you can do is make sure you understand clearly what the apprenticeship programme involves, and the development that's on offer. We also suggest following us on social media, to see what we've been up to lately. A little research goes a long way!
To join our apprenticeship programme, we need you to show that you have, or are predicted to get the following GCSE level (or equivalent) grades and that they are aged 16 or over. Also, some of the more technical roles may require you to be 18+.
To apply, you'll need a minimum of GCSE Grade 9-4 (or equivalent e.g. GCSE Grade A-C) in Maths and English and be eligible to work in the UK. For some of the roles, you may also need GCSEs in Science and an IT/Technical subject.
In Scotland, applicants must have or be predicted to achieve National 5 or above in English, Maths and potentially a Science or IT/Technical subject. Standard Grades 1-4 and Intermediates are also accepted.
If you feel like you fit the description, then we want to hear from you!
If you see the world as we do, and are as committed to protecting the environment as we are, you'll have every opportunity to go far in a career with us.
We give all our colleagues the chance to reach their full potential through our training and development programmes. Our blended approach to learning uses a mixture of techniques – from on-site visits to dedicated classroom environments, alongside role play, written assignments and online learning.
When you're part of our team in the UK, you can also look forward to receiving a great package of benefits alongside your salary or hourly pay.
As an apprentice, you'll get:
A permanent contract with opportunities beyond the apprenticeship programme – you can either choose to remain in your role or decide to continue to develop and progress. Around 90% of our apprentices stay with us and go on to have really successful careers.
On-the-job training delivered by experienced professionals.
Off-the-job training delivered by our partners (colleges and universities) or our dedicated in-house training and development team.
An employee assistance programme.
Mental health first-aiders across the business.
Pension scheme.
Up to 25 days of annual leave each year, plus bank holidays.
An apprentice awards ceremony and recognition.
Our award-winning cycle to work scheme.
Savings on many high street brands and shops.
No matter what stage of the application you're at, we're here to help. Our dedicated Early Careers team is committed to supporting everyone through their application and recruitment journey.
For more information about the Apprenticeship Programme, the application and selection process and what Veolia has to offer as a business, have a look through our website, where we've got everything covered in detail.
While we hope you've found all the answers you're looking for, we appreciate that you may have further questions or require further help. If you need to get in touch with the Early Careers Team, please feel free to contact us at uki.veolia.early [email protected] – we'll be more than happy to hear you out.
Veolia's Fleet Technical Academy
With over 50 of our fleet workshops in the UK, our Heavy Vehicle Service and Maintenance technicians are the main reasons our vehicles make it to the streets every day.
It's great being able to add to the circular economy, and we can see our contribution from every level – even our Apprentices. With many former Apprentices in our Workshop Management teams, senior fleets and even at Director level, they're proof that the sky's the limit when you see an Apprenticeship differently.
Our Heavy Vehicle Service and Maintenance Technician Apprenticeship is unique to Veolia. As a mix of classroom-based learning and practical activity through a series of block releases at our partner training centre (Bristol's S&B Automotive Academy), your skills will develop both academically and practically with us. Alongside this, you'll get a full induction and real experience in our fleet workshops.
By the end of your time with us, you'll have received industry-standard training and recognised qualifications that'll put you in the best possible position to go forward in your career. And for those who want to take that extra step towards leadership and management, they've got the potential to earn a higher level Apprenticeship in the future.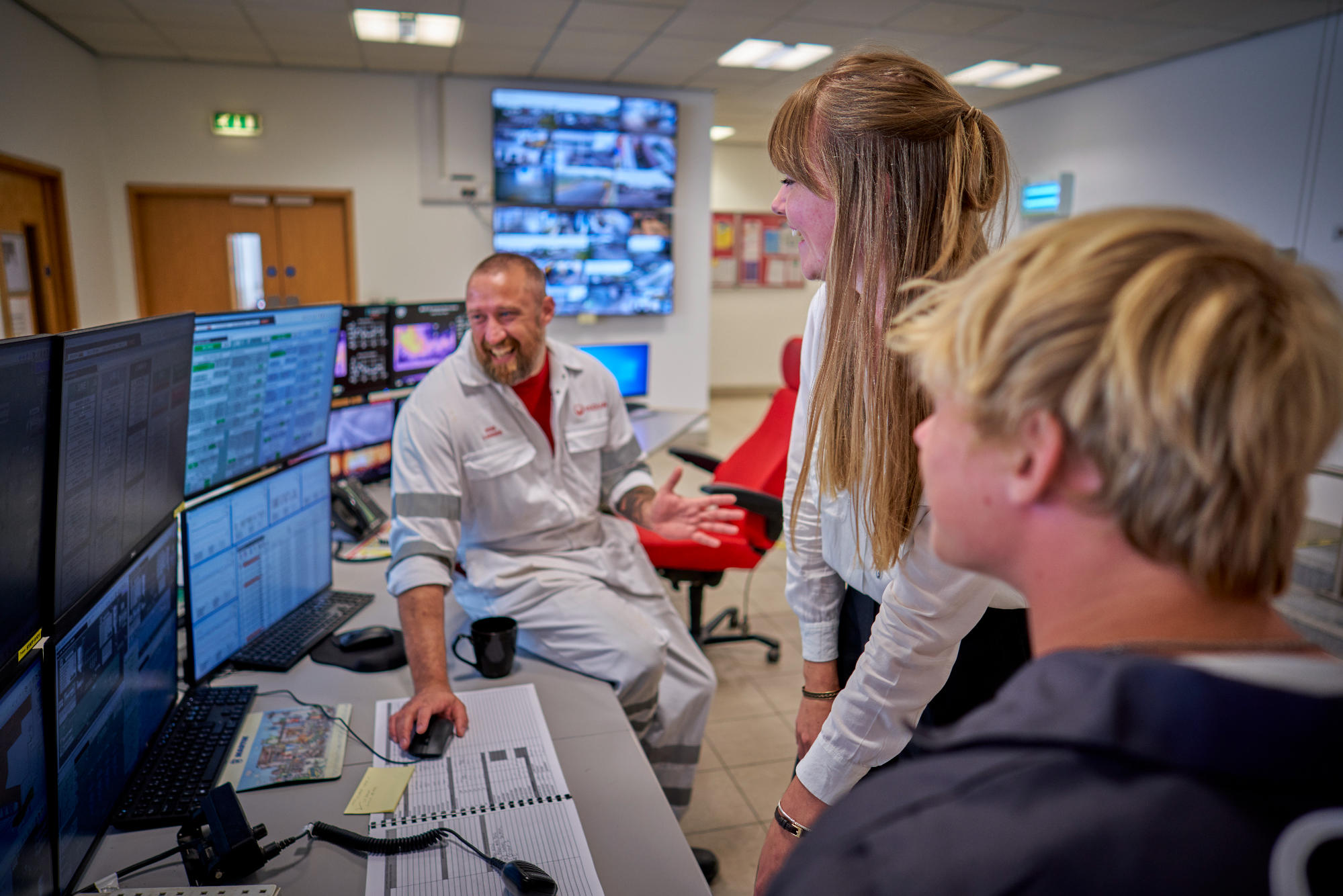 Every year, our Apprentice of the Year awards help us to highlight the integral part our hundreds of Apprentices play in helping us achieve our business strategy of sustainable transformation.
Held at the House of Commons, the award recognises Apprenticeship excellence, from our broad spectrum of UK operations.
Michael Worth - Junior Content Producer and Veolia's Apprentice of the Year 2019
If someone had told me when I first joined Veolia that I would win Apprentice of the Year, I wouldn't have believed them. I don't think people realise the number of opportunities and the exposure you get at Veolia being a Graduate or Apprentice. I think this award shows that Veolia really does notice when you put the time and effort into your work.
What Do Our Apprentices Think?
Don't take our word for it, find out what some of our apprentices think
If you choose an apprenticeship with Veolia you will be part of a team, where people share their experiences and learn from each other.  Along with that, we will support you in developing your skills and your career. there are many opportunities as our contracts are as diverse as our people. 
We recover water, energy and waste – preserving scarce raw materials and helping to build a circular economy.
We employ innovative, inspiring individuals who bring a new perspective to the business. Are you one of us?