Support corporate responsibility goals, display green credentials and get ahead of the impending introduction of the Deposit Return Scheme (DRS)
With single-use plastics and businesses impact on the environment under the spotlight more than ever, it is important that organisations leverage available technologies now. State of the art RVMs improves sustainable development and can enhance your businesses recycling rates.
What are the benefits of reverse vending machines?
RVMs are automated machines which offer your business an efficient, convenient and cost-effective way for your customers to recycle their plastic bottles and aluminium cans.
Introducing reverse vending machines also allows your businesses to move away from mixed recycling collections, to a single stream solution which will enhance our ability to deliver improved material recovery.
Further, with an incentive to use the machines, this can increase the footfall in your premises, clearly display your commitment to sustainable development and move towards introducing a deposit return scheme.
How does a reverse vending machine work?
Empty plastic bottles and drinks cans are placed in the reverse vending machine
The material is scanned and using advanced technology to identify the associated barcode, the material is read and registered against a database
A coupon is printed, offering the customer either a discount or charitable donation
The machine sorts, compacts and stores empty bottles and drinks cans
RVM 100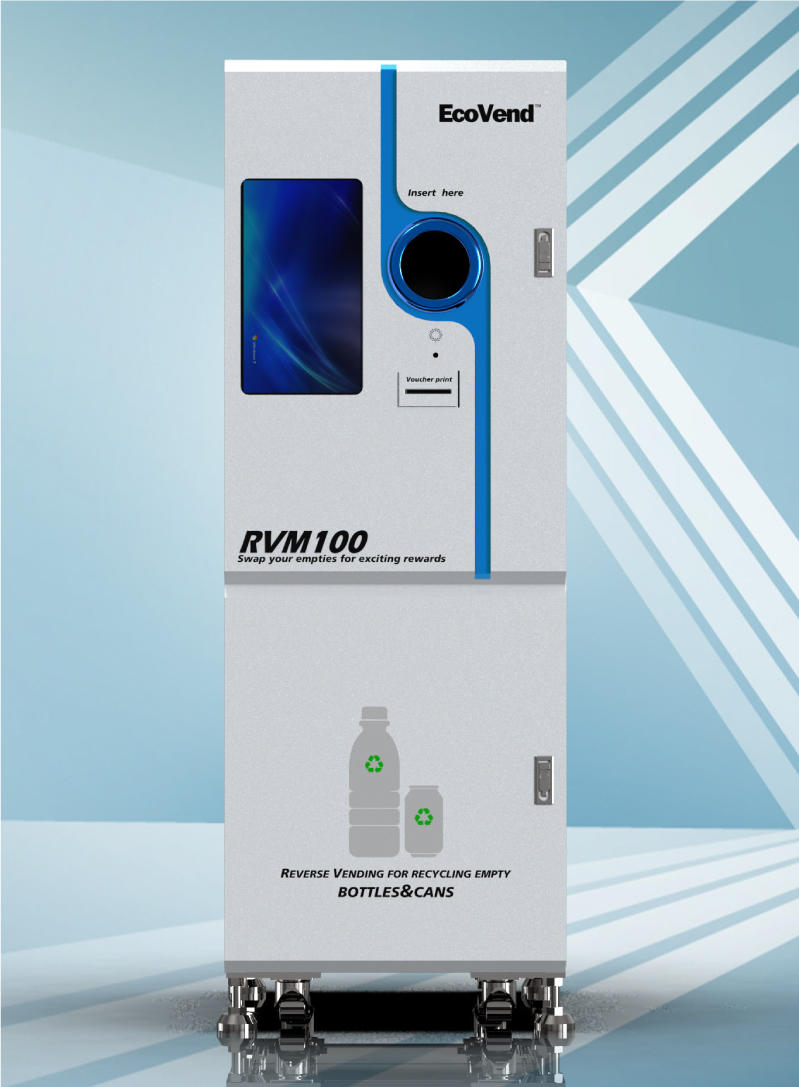 | | |
| --- | --- |
| MODEL: | EcoVend RVM100 |
| LOCATION: | Internal or external (under cover) |
| DIMENSIONS: | 1850 (H) x 650 (W) x 850mm (D)) |
| DIGITAL SCREEN: | Size of 17" to operate machine only |
| REWARD SYSTEM: | Paper token (digital options are available) |
| MATERIAL TYPES: | Plastic bottles & aluminium cans |
| CAPACITY: | 200 bottles or 300 cans (single chamber) |
| AUTOMATION: | Barcode, shape, material and weight sensors |
| CONTAINER SIZE: | Max 3 litres |
| COMPACTION | Powerful densification of each material type |
| POWER SUPPLY | 13 amp |
| PRODUCTIVITY | 22 units per min |
| IP RATING | IP 53 |
RVM 350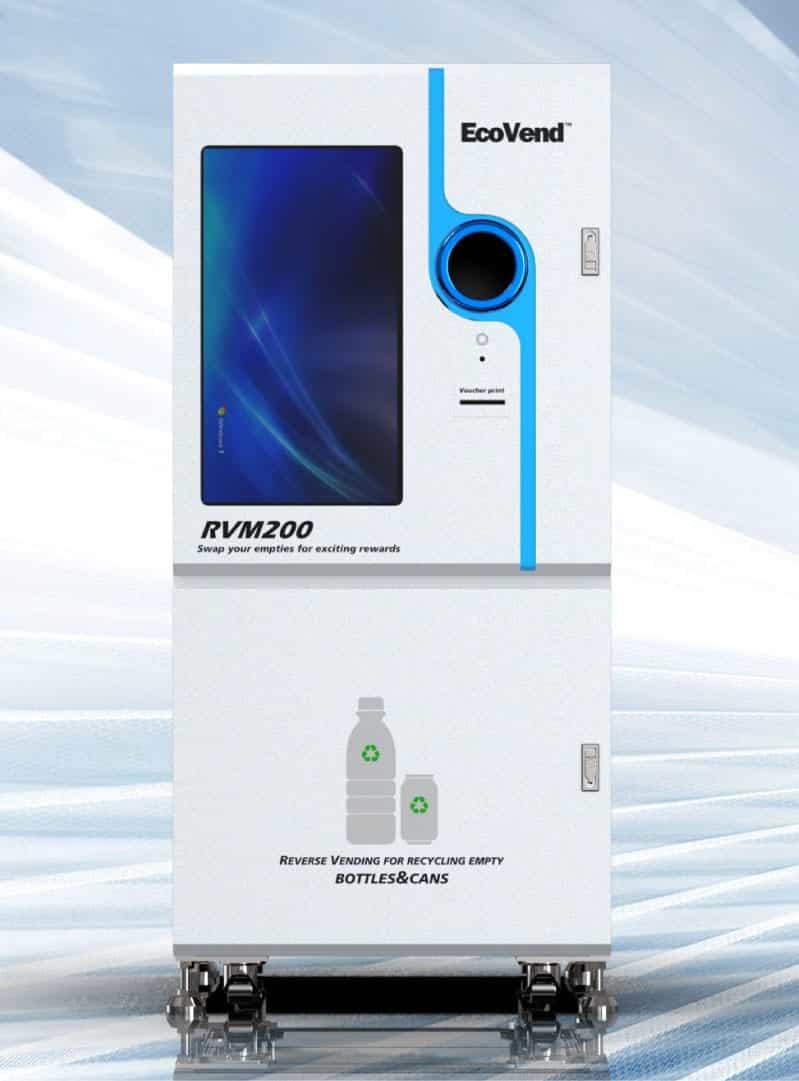 | | |
| --- | --- |
| MODEL: | EcoVend RVM200 |
| LOCATION: | Internal or external (under cover) |
| DIMENSIONS: | 1850 (H) x 850 (W) x 850mm (D)) |
| DIGITAL SCREEN: | Size of 24" to operate machine whilst running video |
| REWARD SYSTEM: | Paper token (digital options are available) |
| MATERIAL TYPES: | Plastic bottles & aluminium cans |
| CAPACITY: | 250 bottles or 350 cans (twin chamber) |
| AUTOMATION: | Barcode, shape, material and weight sensors |
| CONTAINER SIZE: | Max 3 litres |
| COMPACTION | Powerful densification of each material type |
| POWER SUPPLY | 13 amp |
| PRODUCTIVITY | 22 units per min |
| IP RATING | IP 53 |
RVM 400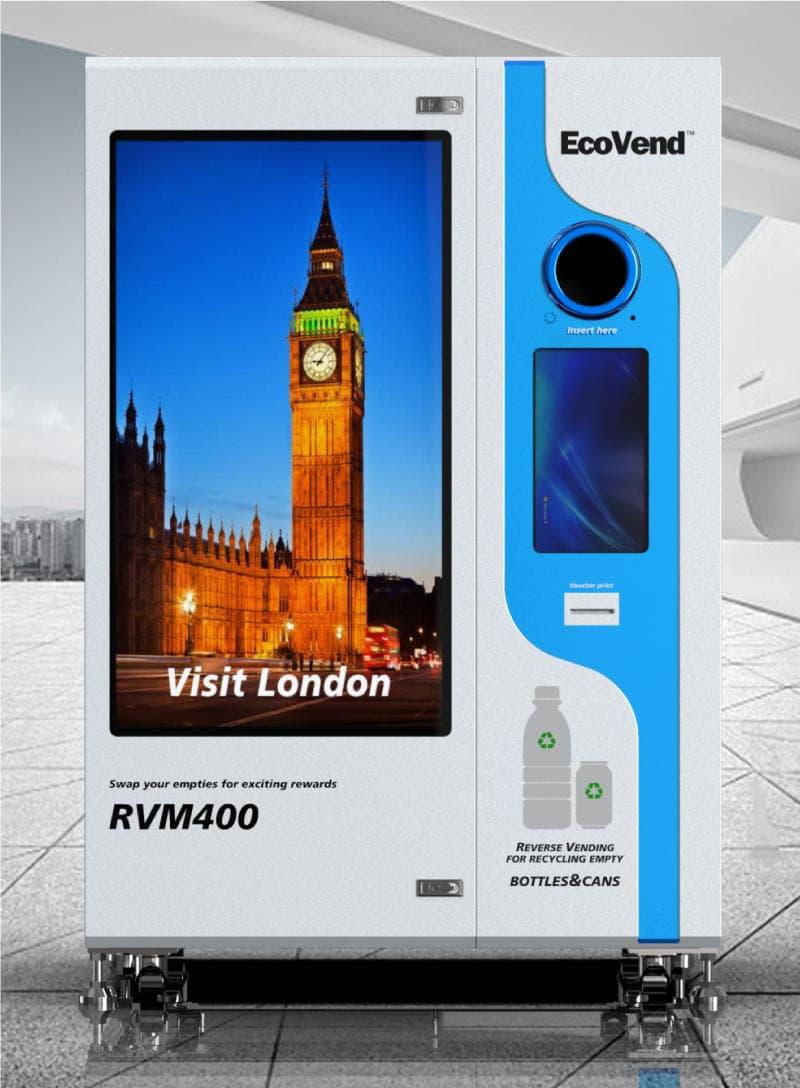 | | |
| --- | --- |
| MODEL: | EcoVend RVM400 |
| LOCATION: | Internal or external (under cover) |
| DIMENSIONS: | 1900 (H) x 1270 (W) x 1020mm (D)) |
| LARGE SCREEN: | 1 x 55in AV screen & 2 x 67in light boxes |
| USER SCREEN: | Operates the machine seamlessly and intuitively |
| REWARD SYSTEM: | Paper token (digital options are available) |
| MATERIAL TYPES: | Plastic bottles & aluminium cans |
| CAPACITY: | 500 bottles or 700 cans (segregated) |
| AUTOMATION: | Barcode, shape, material and weight sensors |
| CONTAINER SIZE: | Max 3 litres |
| COMPACTION | Powerful densification of each material type |
| POWER SUPPLY | 13 amp |
| PRODUCTIVITY | 22 units per min |
| IP RATING | IP 40 |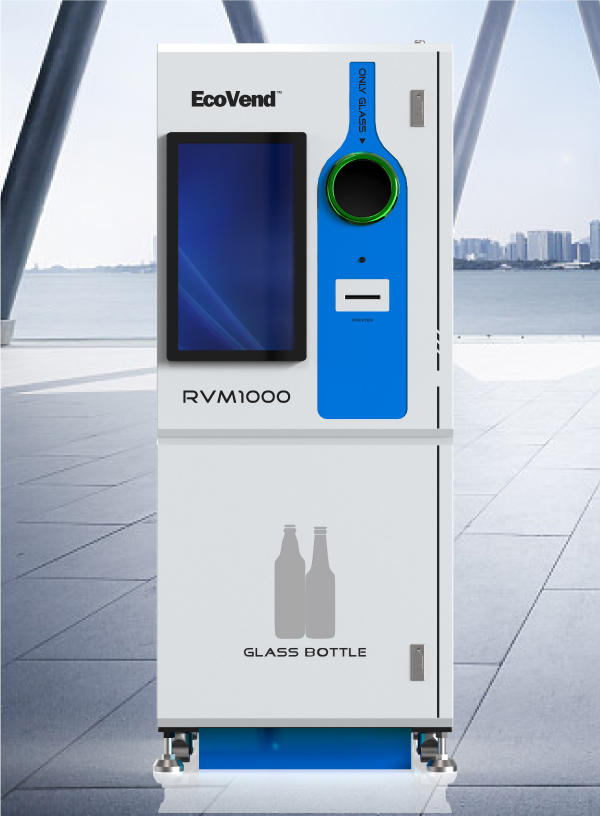 | | |
| --- | --- |
| MODEL: | EcoVend RVM1000 (Glass) |
| LOCATION: | Internal or external (under cover) |
| DIMENSIONS: | 1650 (H) x 750 (W) x 850mm (D) |
| LARGE POSTER SCREEN: | 55" or 65" |
| DIGITAL SCREEN: | Size of 24" to operate machine whilst running video content |
| REWARD SYSTEM: | Paper token (digital options are available) |
| MATERIAL TYPES: | Glass bottles only |
| CAPACITY: | 300 crushed glass bottles |
| AUTOMATION: | Barcode, shape, material and weight sensors |
| CONTAINER SIZE: | Max 3 litres |
| COMPACTION | Crushed glass |
| POWER SUPPLY | 13 amp |
| PRODUCTIVITY | 22 units per min |
| IP RATING | IP 53 |
RVM 2000
| | |
| --- | --- |
| MODEL: | EcoVend RVM 2000 (All 3 materials) |
| LOCATION: | Internal or external (under cover) |
| DIMENSIONS: | 1900 (H) x 2000 (W) x 1020mm (D)) |
| LARGE POSTER SCREEN: | 55" or 65" |
| SMALL USER SCREEN: | Size of 17" to operate machine only |
| REWARD SYSTEM: | Paper token (digital options are available) |
| MATERIAL TYPES: | Glass bottles, plastic bottles & aluminium cans |
| CAPACITY: | 500 PET bottles, 300 Glass bottles and 700 cans |
| AUTOMATION: | Barcode, shape, material and weight sensors |
| CONTAINER SIZE: | Max 3 litres |
| COMPACTION | Powerful densification of each material type |
| POWER SUPPLY | 13 amp |
| PRODUCTIVITY | 22 units per min |
| IP RATING | IP 53 |
RVM 100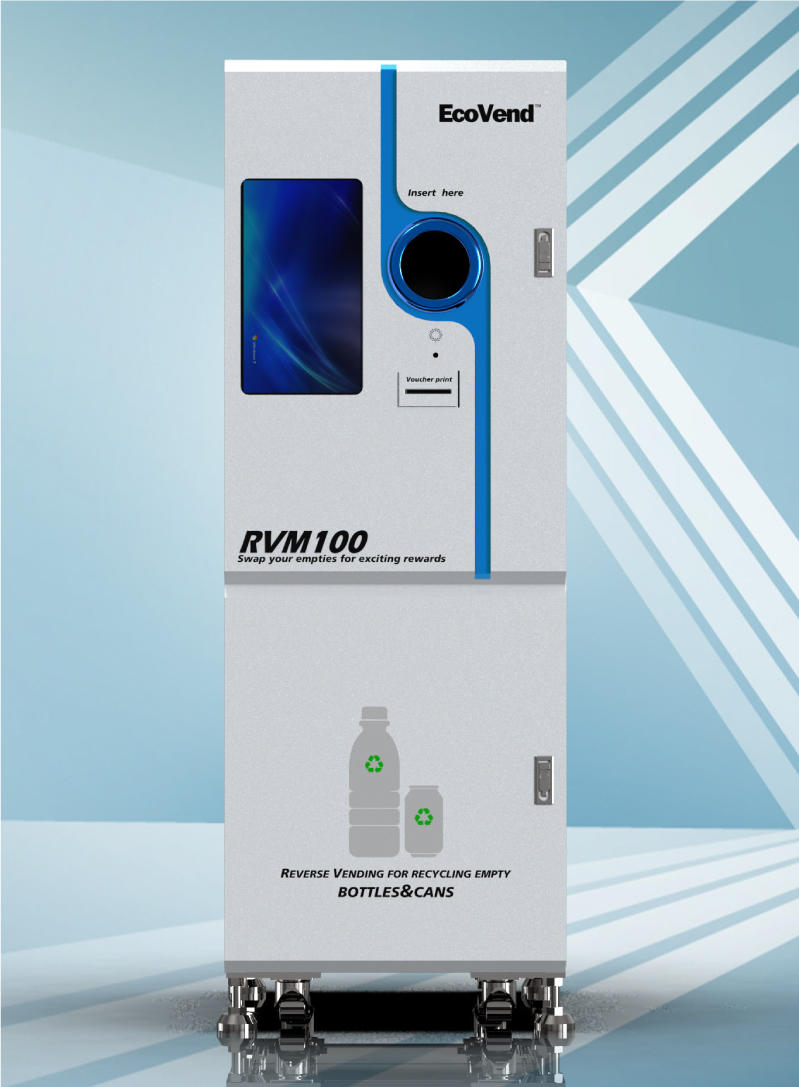 | | |
| --- | --- |
| MODEL: | EcoVend RVM100 |
| LOCATION: | Internal or external (under cover) |
| DIMENSIONS: | 1850 (H) x 650 (W) x 850mm (D)) |
| DIGITAL SCREEN: | Size of 17" to operate machine only |
| REWARD SYSTEM: | Paper token (digital options are available) |
| MATERIAL TYPES: | Plastic bottles & aluminium cans |
| CAPACITY: | 200 bottles or 300 cans (single chamber) |
| AUTOMATION: | Barcode, shape, material and weight sensors |
| CONTAINER SIZE: | Max 3 litres |
| COMPACTION | Powerful densification of each material type |
| POWER SUPPLY | 13 amp |
| PRODUCTIVITY | 22 units per min |
| IP RATING | IP 53 |
RVM 350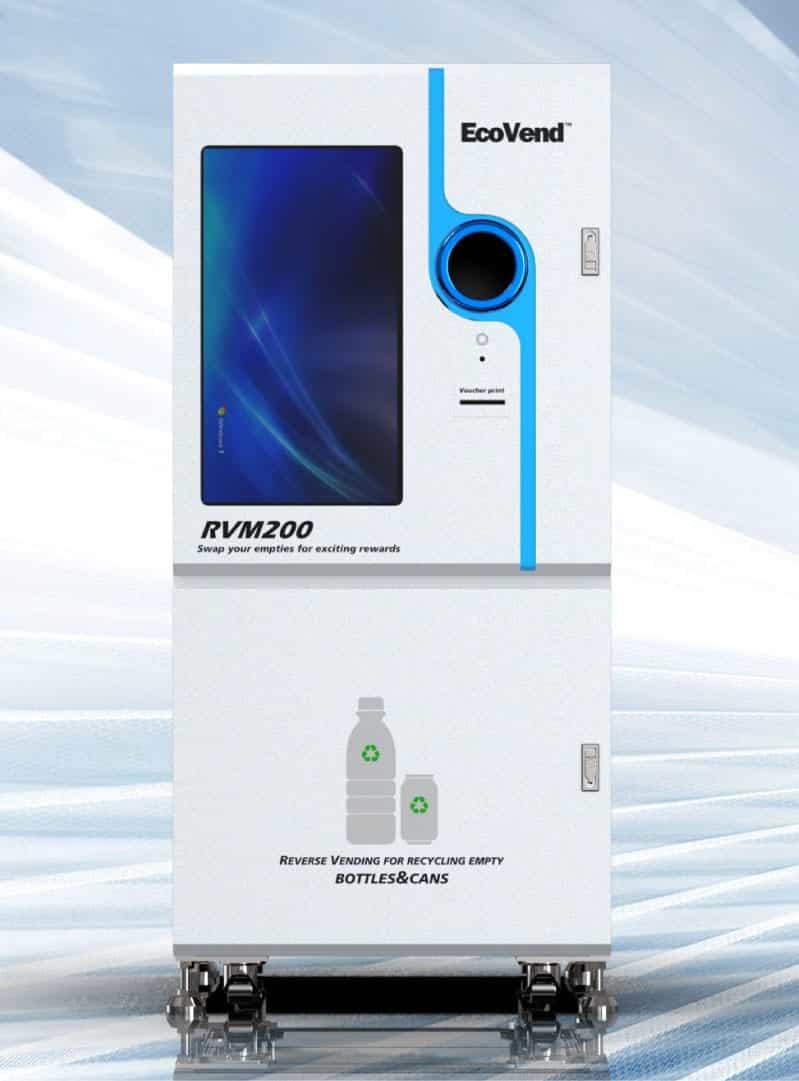 | | |
| --- | --- |
| MODEL: | EcoVend RVM200 |
| LOCATION: | Internal or external (under cover) |
| DIMENSIONS: | 1850 (H) x 850 (W) x 850mm (D)) |
| DIGITAL SCREEN: | Size of 24" to operate machine whilst running video |
| REWARD SYSTEM: | Paper token (digital options are available) |
| MATERIAL TYPES: | Plastic bottles & aluminium cans |
| CAPACITY: | 250 bottles or 350 cans (twin chamber) |
| AUTOMATION: | Barcode, shape, material and weight sensors |
| CONTAINER SIZE: | Max 3 litres |
| COMPACTION | Powerful densification of each material type |
| POWER SUPPLY | 13 amp |
| PRODUCTIVITY | 22 units per min |
| IP RATING | IP 53 |
RVM 400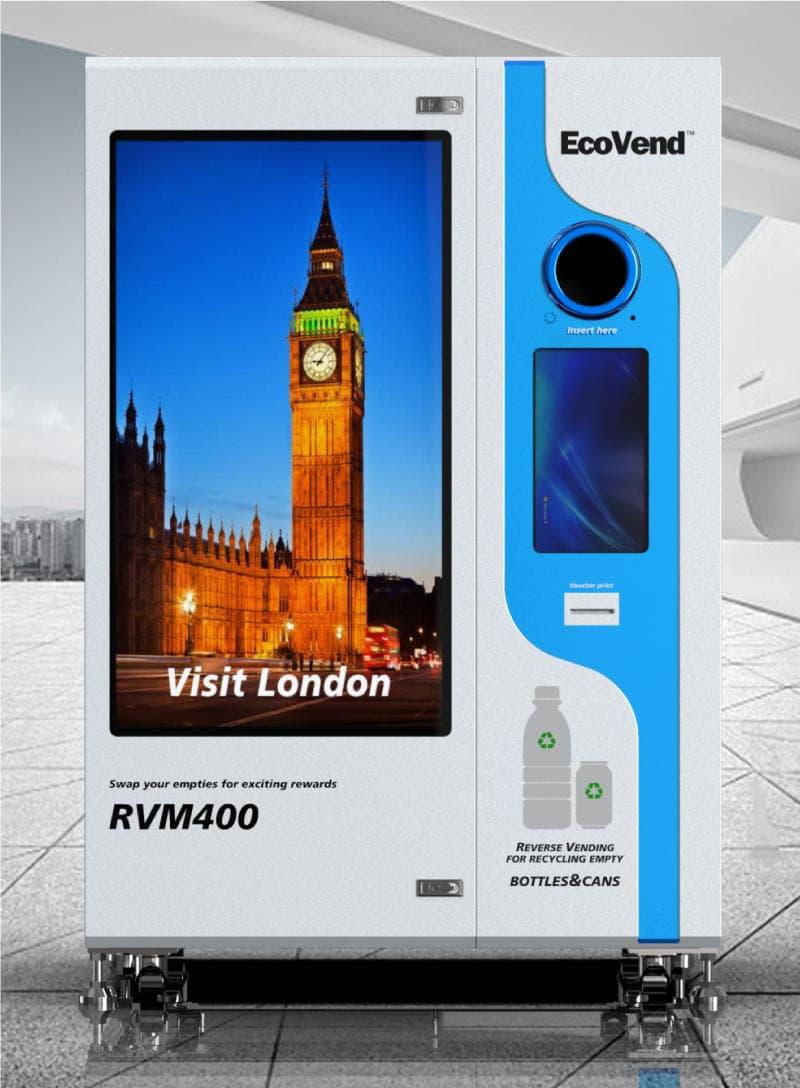 | | |
| --- | --- |
| MODEL: | EcoVend RVM400 |
| LOCATION: | Internal or external (under cover) |
| DIMENSIONS: | 1900 (H) x 1270 (W) x 1020mm (D)) |
| LARGE SCREEN: | 1 x 55in AV screen & 2 x 67in light boxes |
| USER SCREEN: | Operates the machine seamlessly and intuitively |
| REWARD SYSTEM: | Paper token (digital options are available) |
| MATERIAL TYPES: | Plastic bottles & aluminium cans |
| CAPACITY: | 500 bottles or 700 cans (segregated) |
| AUTOMATION: | Barcode, shape, material and weight sensors |
| CONTAINER SIZE: | Max 3 litres |
| COMPACTION | Powerful densification of each material type |
| POWER SUPPLY | 13 amp |
| PRODUCTIVITY | 22 units per min |
| IP RATING | IP 40 |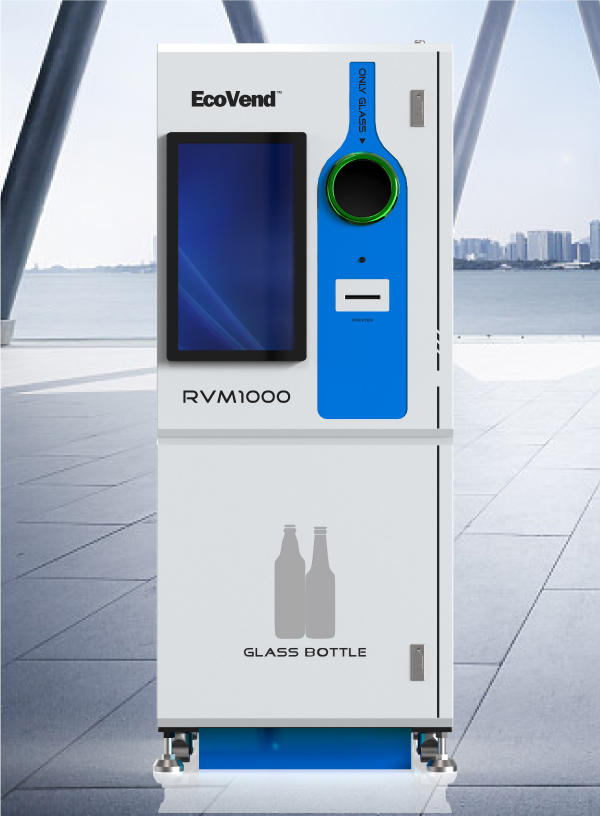 | | |
| --- | --- |
| MODEL: | EcoVend RVM1000 (Glass) |
| LOCATION: | Internal or external (under cover) |
| DIMENSIONS: | 1650 (H) x 750 (W) x 850mm (D) |
| LARGE POSTER SCREEN: | 55" or 65" |
| DIGITAL SCREEN: | Size of 24" to operate machine whilst running video content |
| REWARD SYSTEM: | Paper token (digital options are available) |
| MATERIAL TYPES: | Glass bottles only |
| CAPACITY: | 300 crushed glass bottles |
| AUTOMATION: | Barcode, shape, material and weight sensors |
| CONTAINER SIZE: | Max 3 litres |
| COMPACTION | Crushed glass |
| POWER SUPPLY | 13 amp |
| PRODUCTIVITY | 22 units per min |
| IP RATING | IP 53 |
RVM 2000
| | |
| --- | --- |
| MODEL: | EcoVend RVM 2000 (All 3 materials) |
| LOCATION: | Internal or external (under cover) |
| DIMENSIONS: | 1900 (H) x 2000 (W) x 1020mm (D)) |
| LARGE POSTER SCREEN: | 55" or 65" |
| SMALL USER SCREEN: | Size of 17" to operate machine only |
| REWARD SYSTEM: | Paper token (digital options are available) |
| MATERIAL TYPES: | Glass bottles, plastic bottles & aluminium cans |
| CAPACITY: | 500 PET bottles, 300 Glass bottles and 700 cans |
| AUTOMATION: | Barcode, shape, material and weight sensors |
| CONTAINER SIZE: | Max 3 litres |
| COMPACTION | Powerful densification of each material type |
| POWER SUPPLY | 13 amp |
| PRODUCTIVITY | 22 units per min |
| IP RATING | IP 53 |