Growing the Future Together
Veolia Orchard was launched in 2022 to improve the wellbeing of young people and to nurture their skills to create a positive change to their environment.
In just the first year, we supported 100 schools across the country with 500 fruit trees and 100 bird boxes! This year, we want your help to grow this national network of orchards even bigger and all you need to do is apply.
To deliver this initiative we've teamed up with the community action charity, Groundwork with the aim to improve biodiversity at schools, provide a learning resource for pupils and offer them an ongoing supply of fresh fruit.
This campaign is being powered by Veolia's Sustainable Schools programme. Each orchard is intended to become a learning resource for pupils, empowering them to improve their local environment and combat climate change. Successful schools will highlight how they intend to integrate their trees into a learning programme for their pupils.
Applications for 2023 are now closed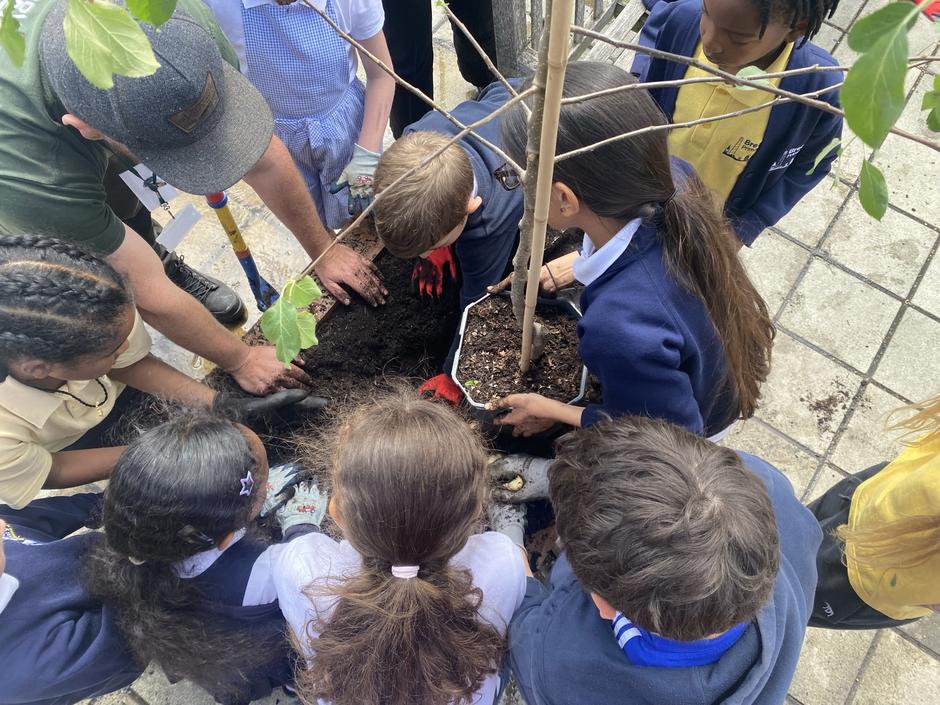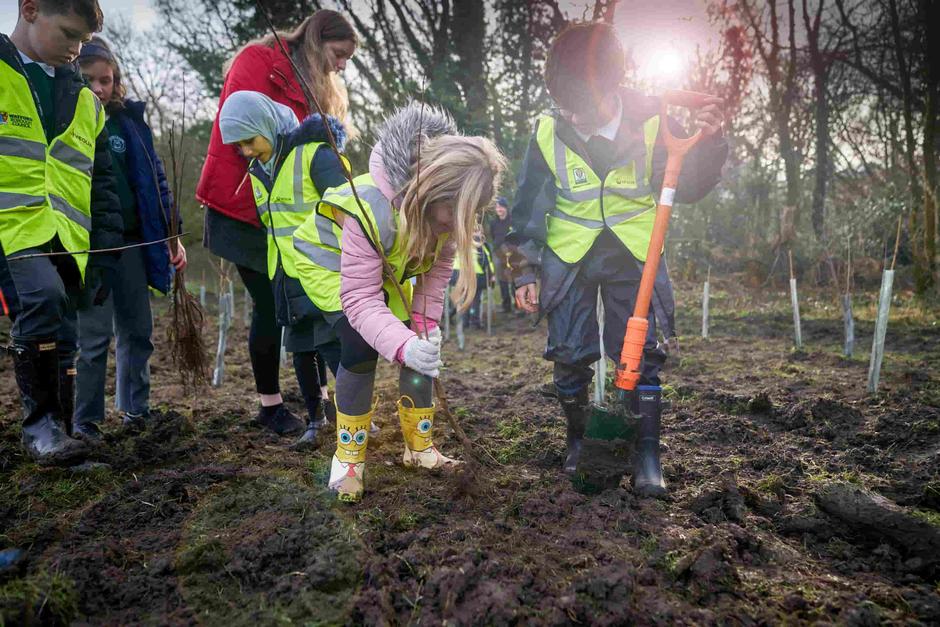 Through this national partnership with Groundwork we want to give young people a chance to feel the benefits of working with nature and getting their hands dirty. Schools can use the programme to nurture new skills for their pupils to take positive action in their communities.
As the trees and plants mature, they will also provide a source of healthy food for pupils, whilst also helping to improve local air quality and support biodiversity.
What are the site requirements for an orchard?
This programme aims to provide small orchards which consist of 5 young fruit trees. 
Each tree is 1.2 - 1.5 metres tall and needs to have around 5 metres distance between them to allow them to mature. For an orchard of 5 trees, an area of approximately 25 square metres is needed. The site needs to have good drainage and you must have permission from the landowner to plant the trees.
If your school does not have space for 5 trees, you can apply for strawberry plants instead which will be delivered in recycled plastic planters that can sit anywhere on your school grounds (somewhere with ample sunlight will be beneficial).
You can also apply for just the strawberry plants if you have a green space or existing planters to plant them in.
Each application will be assessed on a case by case basis. Depending on the level of interest received, schools that are more disadvantaged or located in urban areas with less access to good quality green space may be prioritised.
We are working with our Local Authority partners to deliver free fruit trees and plants to schools. Those schools in the following areas can apply:
Birmingham
Brent
Bromley
Buckinghamshire
Camden
Croydon
Folkestone & Hythe / Dover
Greenwich
Hampshire
Haringey
Harlow
Hammersmith & Fulham
Kingston
Medway, Kent
Merseyside & Halton
Merton
Northampton
Nottinghamshire
Solihull
South Downs
Southend-on- Sea
Southwark
St Albans
Staffordshire
Sutton
Telford & Wrekin
Watford
West Berkshire
Westminster
Please note that if your school is successful in receiving free fruit trees or plants, you agree in advance to be included in any promotional material we develop. Veolia Orchard will promote case studies in any Veolia related publications and publicity material, including but not limited to annual reports, internal newsletters, press releases, leaflets, brochures, advertisements or websites with any reasonable retouching or alteration.
When are applications open?
Applications for 2023 are now closed and trees will begin to be delivered in Autumn.
If you applied for an orchard, we'll be in touch in September.
Follow us on Twitter, Facebook, Instagram and LinkedIn to see how we're getting on with planting sessions and stay tuned if you would like to apply in 2024.
How will the fruit trees be planted?
If your school has been approved for an orchard you will be contacted to arrange the delivery of the trees or strawberry planters. Deliveries will be carried out over October and November 2023 and will be accompanied by a step-by-step guide on how you can plant the trees and maintain them as the orchard grows.
Please note that if your school is selected you will need to plant the trees yourself using your own equipment; an equipment list will be provided in advance of the deliveries.
Thank you so much for the donation of fruit trees. It will really help turn an unused piece of playground into an orchard for all year groups to come together and enjoy nature and all its benefits.
At a time when much of life and play is inside and static, this experience has provided an opportunity for the children to get their hands dirty and make a positive impact on their environment.