Affects on the supply and demand for water
The six trends described will affect both supply and demand for water, with the need for resilient water and wastewater infrastructure, environmental regulation and innovation to support sustainable levels of abstraction
What's driving change?

Increased demand and the cost of investment to maintain infrastructure.
Environmental pressures such as biodiversity implications of abstraction and the carbon footprint from energy / chemical use.
Ageing pipes and other water assets.
Increased surface run-off from urbanisation, increasing the risk of overloaded sewers.
Water companies have to operate as wholesalers to a retail market.
The regulatory landscape is already evolving to reflect the forces of change in this sector, as well as enhanced societal awareness and scrutiny around responsible consumption. For example, circular economy and life cycle thinking is growing in importance in government policy and sewerage planning has much longer timeframes. We are also seeing more legislation around catchment management, ecosystem services, phosphorus levels and water trading.
 
Market opportunities
To keep taps running and pipes flowing for more and more people, the sector could adopt an open mindset to technology. Every day, systems are emerging that can predict and optimise water management. For example, hypervision technology can combine sets of data to manage supply and unaccounted for water in building long-term network resilience.
Untapped markets exist in energy and mineral extraction from sludge. As populations grow, more sludge will be available and this in turn means more biogas to generate renewable electricity and to create new products like plastics and fertilisers.
Do you have a challenge that could benefit from resource efficiency and circular economy thinking?
Veolia: unlocking the potential
Our specialist teams and market-leading monitoring and management systems provide increased operational efficiency and improved environmental performace.
We supply 100 million people with drinking water and 61 million people with wastewater services worldwide
We optimise treatment and generate renewable energy for more than 30 water and wastewater sites in the UK
We manage Ireland's largest water treatment plant on behalf of Irish Water 
​We operate the world's largest sludge treatment and recovery plant in Hong Kong​
We manage a fleet of 427 biogas CHP plants including 10 of Southern Water's treatment works
We recover heat from sewage to warm swimming pools in northern France​
We recover nutrient directly from wastewater hydroponic systems in Vancouver, Canada
We recycle large volumes of wastewater to produce drinking water for nearly 300,000 inhabitants to help with the chronic water shortage in Windhoek, Namibia
We build closed-loop water treatment systems for oil installations throughout the world
Water power is back
Our CHP experts design, install and operate biogas generation units for customers. For example, this year we've installed CHP engines at three of Southern Water's treatment works - Budds Farm and Fullerton in Hampshire and Gravesend in Kent and this adds to the systems already serving seven other Southern Water treatment sites. These CHPs will now deliver around 48.3GWh of renewable electricity each year, taking pressure off the local electricity infrastructure and saving 8,800 tonnes of CO2 emissions.
We are using PEARL software to help Dwr Cymru (Welsh Water) in Pembrokshire compare how it's doing against over 4,000 drinking water plants operated globally by Veolia
​
 
Water and wastewater companies need to work side by side to shift consumer mindsets around issues like the potability of recycled water and what ends up in sewers. The long term nature of investment needed raises questions around the extent to which today's customers should pay for future customer and environmental benefits.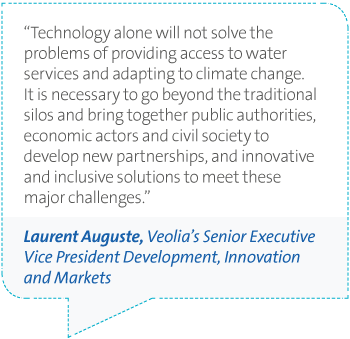 Agility is needed to reap the commercial benefits in energy and new materials from waste sludge, while flexible financing models will help secure the upfront capital needed for long term change. Investment in people is required to provide the skills needed to future-proof water operations – many companies in the sector have already backed a new strategy to bring in 221,000 new jobs by 2027 under the Energy and Utilities Skills Partnership.