How can evolving the design, collection and processing of plastic optimise its environmental and economic potential?
Plastic was introduced as a material marvel, designed to preserve and protect products over long journeys - ensuring food in particular remains fresh, safe and long-lasting while saving water and energy in the process.
These benefits are significant. Unfortunately, pathways have opened up resulting in plastic waste ending up in the natural world.
Our objective is to recover materials before they're lost and damage the environment; recycling resources, creating new from used.
The UK has successfully moved from a 5% to 45% recycling rate over a 20 year period, now we need to consider what our next steps should be, how we as a country can improve recycling. This isn't about banning an eco-material but evolving how we design, collect and process it to optimise its environmental and economic potential.
Download our report, plan for plastics, to discover our suggested three-step approach to boost plastic recycling.
We developed this paper with leading plastic authority, RECOUP. 

UK recycling tonnage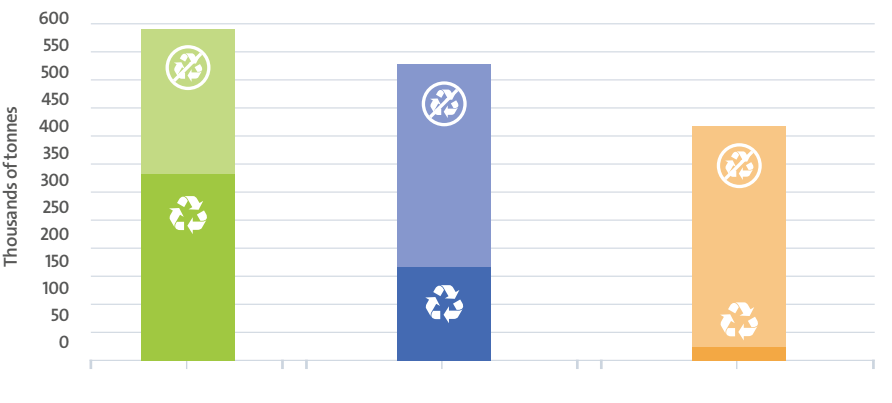 PLASTIC BOTTLES
594,000
tonnes
POTS, TUBS & TRAYS
525,000
tonnes
FILM (inc. plastic bags)
414,000
tonnes
59%
currently collected for recycling
---
Very recyclable
33%
currently collected for recycling
---
Mixed recycling
<5%
currently collected for recycling
---
Very hard to recycle
KEY FINDINGS FROM RESEARCH