Multiple Waste, Water & Energy Suppliers Can Drain Both Cost & Resources
Using one supplier across all three key areas can offer a more sustainable, cost-effective solution, and provide greater peace of mind.
All-in-One Waste Water & Energy Solutions
Waste, energy and water services are crucial to the running of your business. However, they should not be a distraction from your core activities. Ensuring that all waste streams are minimised and disposed of legally and safely, ensuring that your energy supply is secure and efficient, and ensuring that water treatment is compliant can be stressful to manage, as well as draining on your time. Even when finding the right suppliers for each area, making sure that each one is reliable, credible and providing what your business needs can be a hugely complex process. Sustainability and zero carbon targets are additional areas for consideration, which affect all parts of your business.
Veolia is a specialist supplier of services across waste, energy and water (and more) that understands your business. Working in partnership with you across multiple areas, we will get to know your site through a process of visits and audits, gaining a holistic view of your business. This allows us to identify opportunities across different areas, such as using waste to generate energy. This also means we can support you to bring more services on-site, such as wastewater treatment. We can help you reach your sustainability goals, by supporting you to adopt a more circular approach and identifying areas in which you can reduce your carbon footprint, such as by integrating green energy into your energy mix.
Single Supplier Cost Benefits
Additionally, a consolidated approach to your non-core services creates cost savings, by identifying opportunities for improvement and optimisation across your whole business. This can often be in the form of long-term, 'hidden' costs, that will save your business considerable amounts of money over time. This approach can include finding ways to utilise waste products, or optimising water treatment processes.
As well as finding ways to improve processes, our operation and maintenance of existing assets, such as energy centres, creates ongoing operational cost savings. Veolia offers clear reporting and transparency across all services, so that we can continuously demonstrate the value we're creating.
A Safe Pair of Hands
With health and safety and compliance being at the forefront of businesses' minds in the chemical sector, you need to ensure that the suppliers you choose are reliable, trustworthy and equally focused on safety. Veolia is able to tick all three boxes, and combines these priorities with a focus on sustainability. We will take the stress of compliance and safety off your hands. From ensuring security of your energy supply, to monitoring effluent discharge content, we will make sure that all service areas remain compliant and safe, both now and for the future.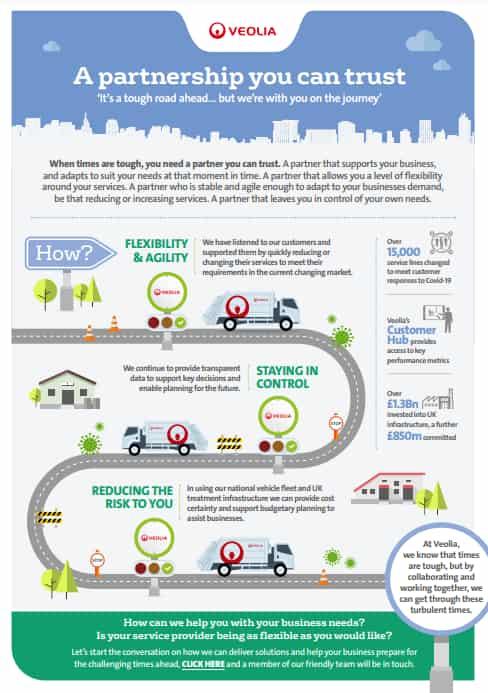 HOW CAN WE HELP YOU?
Find out more about creating a partnership with Veolia.
Our experts are always on hand to deal with your request.