Today HRH the Duke of Kent opened the award-winning Leeds Recycling and Energy Recovery Facility. The site, developed by Veolia the UK's leading resource management company, on behalf of Leeds City Council has been built with the latest recycling and recovery technology to help transform residents' black bag waste into a resource.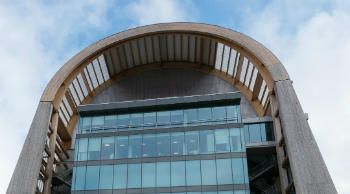 The state-of- the-art building processes all of the household black bin waste from across the city, separating out recyclable materials and then recovering what is left to generate energy. The site is also home to Europe's largest vertical green living wall that stretches 1,800m
2
 as well as a unique timber-arched frame structure.
The site generates 11MW of energy enough electricity to power 22,000 homes via the National Grid and will help boost Leeds recycling rates with the future aim of becoming a zero waste city.
Estelle Brachlianoff, Senior Executive Vice President Veolia UK and Ireland said: "Leeds is a shining example of a circular economy hub transforming unwanted materials into an important resource. The partnership will continue to drive recycling rates and look for more solutions to material streams. Together we have created an iconic facility which is an attractive landmark for Leeds and more importantly a sustainable solution for the city's waste for generations to come."
 
Councillor Lucinda Yeadon, Leeds City Council's executive member for environment and sustainability, said: "This excellent facility is at the heart of our commitment to sustainability and making the best use of our resources. It allows us to divert black bin waste away from landfill and into environmentally-friendly further recycling or energy creation. This in turn means we save a considerable amount of cash for Leeds by not having to pay landfill fees."
 
"This excellent facility is at the heart of our commitment to sustainability and making the best use of our resources"
The plant began construction in 2013 within a former wholesale market on the Cross Green Industrial Estate in East Leeds, and became fully operational in April this year. At its peak more than 200 workers, many from the local area, worked on the building and it now employs more than 70 members of staff.
In the future, the facility will use a combined heat and power system to generate hot water and heating to local homes, buildings and potentially schools and hospitals in Leeds. Veolia, the Business in the Community's Responsible Business of the Year, works closely with the local community and so far more than 80 visits from schools to community groups have taken place in the site's purpose-built visitor centre to understand more about what happens to waste in Leeds.
The Recycling and Energy Recovery Facility is part of a 25-year PFI contract between Leeds City Council and Veolia.