Services to residents in
Tidworth and Perham Down
Our operating area
Veolia Water Projects' (Tidworth inset) operating area is about 80 miles south west of London.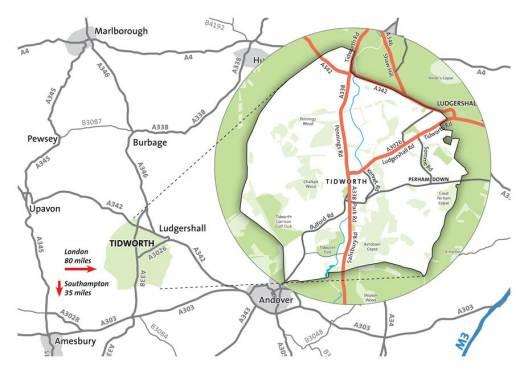 Veolia Water Projects provides water and sewerage services to domestic and commercial customers in the Tidworth and Perham Down area in Wiltshire and for its associated civilian population in post codes SP9 and SP11. 
As these areas fall within another supply area, the Water Services Regulation Authority (Ofwat) has granted Veolia a special license to provide these services. This is known as an inset appointment.
If your enquiry relates to any other post code please refer to the water company for that geographic area.
If your water supplier recently changed its name from Veolia Water Central, East or Southeast to Affinity Water, please contact them directly.
What we offer
Our team is locally-based
We ensure a safe and reliable supply of drinking water for our customers
We operate, maintain and continually improve the large network of water and sewerage assets
We deal with and manage wastewater
Our service includes customer relations and billing
We support our local communities
We support developers with new connections
Our published reports
We are required by the Regulators such as OFWAT and DEFRA to publish certain Reports and Performance Information relating to how we administer and control our Business. In this Section you will be able to view and download such documents from the list below: 
 
Serving Tidworth and Perham Down
Affinity Water Customer?
Were you once a Veolia Water Central, East or Southeast customer? Your water company is now called Affinity Water.
Veolia has sold Veolia Water Central, Veolia Water Southeast and Veolia Water East.
These companies are now known as Affinity Water. If want to contact one of these tap water companies please click HERE.
 
Tidworth Residential Customers
If you're a Tidworth residential customer and you have an Operational or Billing enquiry, call: 03451 482 909*
Mon-Fri, 8:30am to 4:30pm.
*A 24 hour emergency service operates outside of these hours. Calls may be monitored or recorded for training purposes. 
 
Tidworth Email
► Residential Billing Enquiries
► Operational Enquiries
► Developer Services Enquiries
 
Tidworth Postal Address
Veolia Water Projects Limited
PO Box 3920
Swindon
SN5 1BW
Are you a Tidworth resident? Find out here how you can pay your bill, whether your water is metered or not.
The maintenance and repair of water mains, service pipes, drains and sewers is undertaken by our own local technicians and contractors.
This section of Water Projects is the focal point for developers and individuals who require new water and/or waste water connections. It also sets out our current application charges, where applicable.