Resources a burden for UK manufacturing
Given the volumes used, the cost of energy and water will become an increasing burden for UK manufacturing. Businesses will need to think differently about how they generate, use and recover these resources.
Market opportunities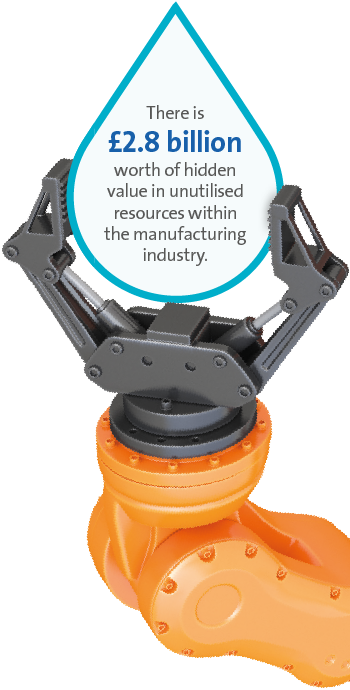 Advanced new materials and lower overall labour costs (due to automation) are enabling change at scale. There are also more renewable technologies available that will help counter energy price volatility, create bottom-line savings and support credible reporting. Wastewater can be treated and processed onsite without the need for transportation across the country, whilst optimised operations will further increase this efficiency. This will also offer more opportunities to smaller businesses that can operate locally. Increasing water scarcity will be the catalyst for greater uptake of water recycling and heat recovery schemes.
Our Hubgrade smart monitoring centres already monitor heat, electricity and gas usage in real-time. Central control centres remotely adjust their systems to ensure constant optimisation. Customers can also be identified, prioritised and notified when improvements could be paid for by cost efficiencies.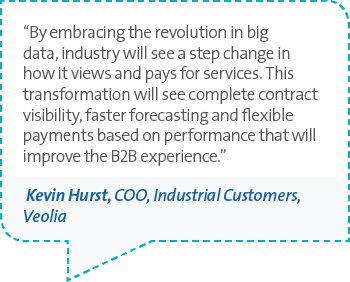 We believe the miniaturisation of waste treatment systems will reduce centralised plants to on site facilities. No longer will rubbish be carried across the country, but processed onsite as it comes out of the factory. Smaller businesses could see shared facilities installed and managed by integrated environmental
services companies.
Do you have a challenge that could benefit from resource efficiency and circular economy thinking?
 
Veolia: unlocking the potential
We're already extracting and selling fertiliser, road salt, paint thinners, glass, fibre, road building materials, plastic polymers for car bumpers and oils - all from industrial waste products. By breaking down waste into these valuable commodities, businesses can trade on the open market through our existing Veolia brokerage team.
​How you stack up: we offer performance benchmarking to compare how your circular thinking and practice is doing compared to other Veolia operated sites around the world.
 
As a nation we are using more water, but there's less to go around. This is why water supply and wastewater treatment is a national priority.

Working with Tilmanstone Salads in Kent, we created a water recycling facility that took the wastewater from the factory and safely recycled 72% of it back into the food production process.

The first example in the UK of recycled water being used in food productio, it has delivered significant cost savings and reduced our client's environmental footprint.
 

In the water-parched Mexican state of Jalisco, Veolia has helped Nestlé implement zero-water dairy production to improve stewardship of water in a country where the resource is under serious stress.
For many  industrial sites, water is both a vital utility and a significant cost. By introducing greater efficiencies and adopting new technlogies, industrial sites will see cost reductions, more accurate reporting and resiliant supply chains. This in turn will have a direct and positive effect on the £ per litre of water used in production costs.
Industry will find a growing need to implement water conservation measures and advanced water recycling that can be utilised in their production processes.