Compliant collection of everyday workplace items
Many small everyday workplace items are now classed as hazardous waste and must be disposed of
compliantly, which can be tricky to manage, particularly across different sites. Our UK-wide small
packaged waste collections service can help you to reduce costs, whilst guaranteeing compliance on every load.
 
How we can help
Whether you're a small company or a multi-site operation, disposing of small amounts of difficult or hazardous waste can present a real challenge. With our 100% self-delivered collection service, we can provide a service that's tailored to your exact needs. In addition, we can also guarantee all of your waste will be managed consistently - wherever you're located within the UK.
Our fleet of specialist vehicles and drivers are based in every region to provide flexible collections of small packaged waste. In tandem, our Technical Support Team will assess every consignment to ensure each load complies fully with legislation.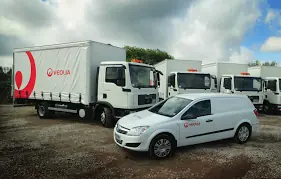 How do we create value for you?
Thanks to the density of our collections, with vehicles routed weekly to reduce expenditures, it's a very cost-effective service. Rather than paying for a whole vehicle, you save money with a pallet rate. And to save you even more time, money, and vehicle movements, we'll also drop off packaging at the same time as we collect.
Our smaller vehicles are more maneuverable, making them ideal for companies with a small footprint that cannot accept large, articulated vehicles. They are also equipped with tail lifts and can be loaded by hand or pump truck should you not have a forklift truck.
With a guaranteed waste management standard, regardless of where sites are located, you can rest assured you'll comply with all your legal obligations, and that your waste will be disposed of in the safest and most responsible way possible.


Our UK-wide small packaged waste collections service offers:
100% compliance with current legislation

Small maneuverable collection vehicles
A nationwide network of local fleets

Quick turnaround from quote to collection
100% consistent waste management standards

No subcontracting
Offers a wide range of small packaged waste types, including, ECOBOX, Household waste recycling centres, Garage waste
We're Here to Help!
Find out how much you could save with small packaged waste collections.

Our experts are always on hand to deal with your request.
Related Services & Literature