Ensure total data privacy and protection
compliance with Confidential Shredding
From bank statements and commercial contracts to personal data and private records, your business deals with highly confidential documents every day. Our secure shredding service will ensure you comply fully with all data privacy and protection regulations.
How we can help
The introduction of the EU General Data Protection Regulation (GDPR) means that your business must be even more careful about how you collect, store and handle personal information. Because in the wrong hands, that data could be misused in any number of ways - including identity theft and financial gain.
You need a confidential waste management service you can trust.
As a member of the British Security Industry Association, all our processes comply with BS EN 15713 accreditation, and our facilities are accredited to ISO 9001, ISO14001 and ISO18001. Our secure collection and shredding service include:
 A range of containers to place around the office
Lockable consoles, bags and secure bins
Transportation to our secure shredding facilities
24-hour CCTV to monitor your waste from delivery to destruction
A certificate of destruction
You also have the option to visit our facility to witness the shredding process for yourself, so you can have full confidence that any documents will be handled in a secure and professional manner.
How do we create value for you?
Whether you're a small business or a national chain, we can tailor our confidential shredding service to keep you and your customers' data safe and secure. By achieving full compliance, you'll also have peace of mind that you will avoid the risk of a substantial fine.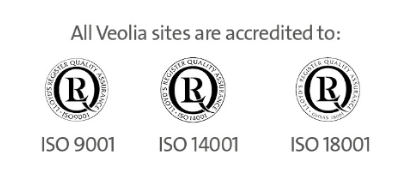 A range of containers to place around the office
Lockable consoles, bags and secure bins
A tailored waste collection service