The Government's
25 Year Environment Plan
The 25 Year Environment Plan was published earlier this year and pledged to eliminate avoidable waste by 2050, create richer habitats for wildlife, improve air and water quality and curb the scourge of plastic in the world's oceans.
The big headline, which caught the attention of the mainstream media, concerns measures to eliminate avoidable plastic waste by 2042 with a four point plastic strategy. This strategy will reduce plastic waste and the types of plastic in circulation, make plastic more recyclable and ensure that more of that recycling is done here in the UK.
Later this year the Government will publish its waste and resources strategy at which point we will know what actions need to be taken to meet these aspirations. You can find out more, here.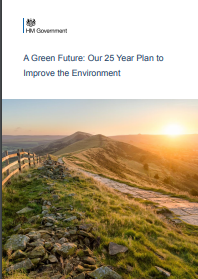 Download the report: A Green Future: Our 25 Year Plan to Improve the Environment
PDF, 11.1MB, 151 pages
The EU Circular Economy Package
The long awaited Circular Economy Package was approved by the EU recently and includes measures that will amend the main directives on waste. There will be a broader definition of municipal waste that will now include similar commercial waste. While this will not affect who collects the waste, it will need to be measured as some commercial waste will now be included in the new recycling targets. These new recycling targets are 55% in 2025, 60% in 2030, and 65% in 2035.
Separate collection requirements will be extended to include biowastes by 2023 and textiles by 2025, along with a prohibition on landfilling and incineration of separately collected wastes.
The UK governments will be required to implement these new requirements into regulations, at which point we will have a clearer understanding of how this will affect you and we will, of course, keep you updated on developments. Take a look here for more information.
---
Hazardous waste ecotoxicity criteria
New ecotoxicity criteria came into force in July, implementing a change to the EU definition HP14 that was agreed in 2017. The Environment Agency's guidance document WM3 has been updated to take this change into account.
Generally speaking most hazardous wastes in the UK will remain unchanged, but as always there are winners and losers in the process. To be certain, you should check the HP14 classification of your waste.