Real-time transparent performance
metrics for Stafford Borough Council
The unique combination of our operational systems, including Echo and visualisation through Microsoft PowerBI will provide Stafford with real-time transparent performance metrics, displayed in dynamic dashboards tailored to their unique requirements.
Microsoft's PowerBI platform is also mobile-friendly and web-hosted, meaning it can be accessed securely, anytime, anywhere and on any device.
The reports have multiple levels so Stafford Borough Council users can 'drill down' into reports to interrogate data as they choose. For example, users can view the total number of events by service (Waste Collection, Dry Recycling Collection, Garden Waste, Bulky Waste Collection etc.) and then 'drill-down' into any one of these to look at events (such as a missed collection) by type, to crew or vehicle level to identify particular issues or outliers.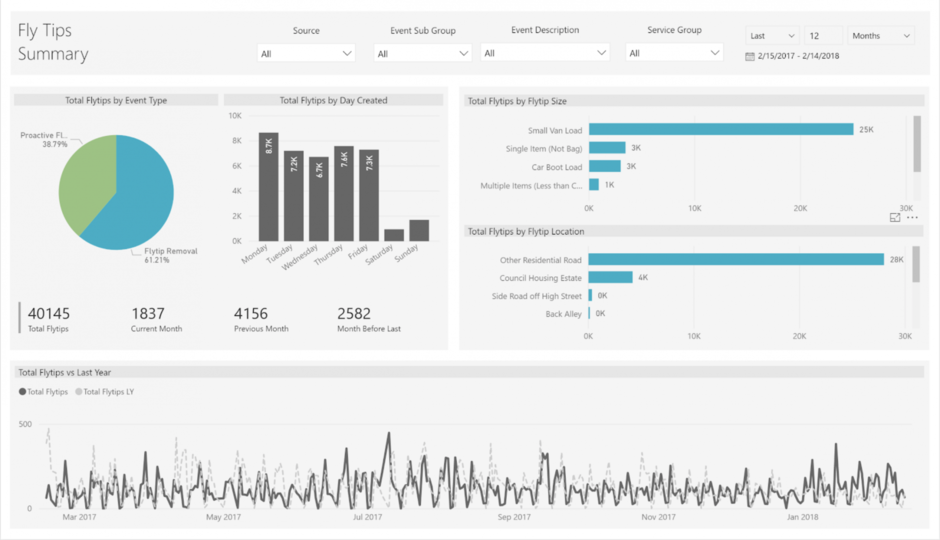 As the majority of our data has a location associated with it, we can use spatial analytics to map data in a variety of ways, including through clusters or heatmaps. This provides another level of insight and analysis, helping to highlight areas of focus to further improve the services we provide. Once the user drills down to a certain level, the maps can evolve into a street view in order to understand the location in more detail.
Power BI is an intuitive system to use, helped by its support for natural query language.  This enables users to question the data to see a specific dataset, graph or table, for example, "Show total missed collections in January 2016 by service". The answer to the question is displayed as an interactive visualisation and updates as users modify the question.
Data extracts will be derived easily from each element of the dashboard and there is the ability to download the summary or the underlying data into either CSV or Excel format.
To ensure Stafford Borough Council gains maximum value from PowerBI, we are holding workshops with its users to define specific dashboards so they can not only keep track of crucial KPIs but also receive alerts and notifications according to custom designed targets.
This toolset, based on our analytical models, gives our management team and partners access to correct datasets to boost transparency and improve decision-making with the benefit of performance data. This ensures that we always have the best foundation in place to measure and continuously improve the services we deliver over the ten-year partnership term.