From community facility refurbishment to building a community skatepark and resurfacing athletic tracks… the Veolia Environmental Trust continues to support it all! 
The Veolia Environmental Trust was established in 1997 under the Landfill Communities Fund*. Since then, Veolia has contributed almost £90m to the Trust. These funds have been used to support over 2,500 community and environmental projects in England. 

In September 2020, the Board of Trustees awarded a further £1,222,478 to 34 brilliant community projects. Grants ranged from £75,000 that supported the restructure of part of the St Thomas Holtspur church to create a welcoming and accessible cafe in Beaconsfield, to a £63,070 grant for a walled garden in Liverpool to turn the space into a resource for health and wellbeing.

This isn't new to us. During the past 23 years, our grants have supported 2,545 projects. Let's take a look at some recently completed initiatives...
Community skatepark and
outdoor space in Walford

The skate park is designed for skateboarding, blading, scooter and BMX rides across a wide range of levels of activity and ability - from young novices to the more advanced skater as well as wheeled sports participants of all ages and abilities. The project was awarded one of the Trust's higher grants of £250,000 that enabled the amenity to have an overall positive impact upon levels of physical activity in the town. The grant also contributes to the transformation of Oxhey Park by providing much-needed facilities for a wide range of users, including play facilities, a café and the major skate and BMX facility.
The skate park facility is located by the River Colne and is on a flood plain. An ecological survey and tree report were carried out to consider flood impact and mitigation; enhancements of local biodiversity including the river corridor and introductions for wetland areas; tree planting; grassland management and the impact lighting has on bat populations. Oxhey Park North has been transformed by this project to not only provide the skating and cycling features but also landscaped green spaces, outdoor table tennis, wildflower meadow and other plants for the enjoyment by all Watford's communities.
Project Category: Community Facilities
Grant Value: £250,000
Grand Awarded: December 2017
Project Completed: September 2020
Project Category: Community Hall / Centre
Grant Value: £31,899
Grand Awarded: September 2019
Project Completed: October 2020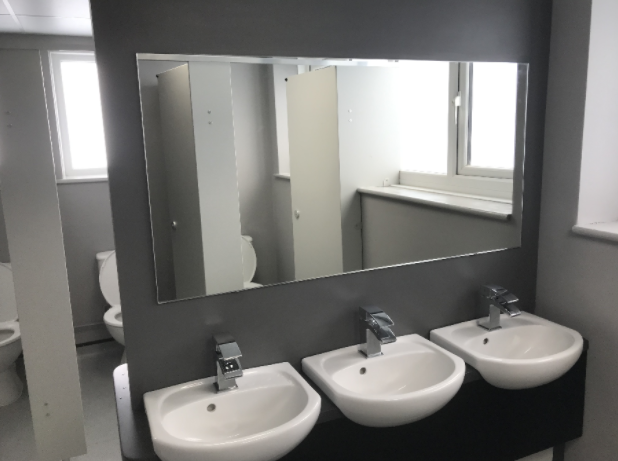 Refurbishment of the Temple
Park Centre toilets, Sheffield

Temple Park secured a grant in 2017 to support the first phase of the building's refurbishment including new windows, heating, lighting and redecoration. Through a grant of £31,899, the Trust supported the refurbishment of the two toilet zones at the Temple Park Centre, increasing the number of toilets from the current three, to nine. Continuing to develop the Temple Park Centre as a community hub will increase the opportunities through volunteering, training and capacity building to achieve a better quality of life and in the long term, secure paid employment as volunteer's confidence and skills develop.
The recent redevelopment has provided much-improved access and user experience, with a new entrance, reception and toilets, and an additional meeting room. This enables the centre to meet the increased demand for use of the building from community groups and local people including the Foodbank, Scouts and a local badminton group. The new toilets, sinks and handwashing facilities are more environmentally friendly, using less water per unit. There are also energy-efficient hand dryers that have eliminated the use of paper hand towels, reducing waste.
Protecting the Toad habitat
in Epping Forest
 
Cow Pond had dried out due to the overgrowth of vegetation on the bottom of the pond and overhanging trees. Through a grant of £38,000, the pond was restored to ensure that toads and other wildlife, particularly aquatic birds, invertebrates and small mammals, have perfect conditions to thrive. The woodland enhancements have improved conditions for hibernation and will be monitored through the next decade. 

Volunteers helped with building hibernacula (a place in which a creature seeks refuge) in the areas surrounding the pond and the woodland. The grant also provides the volunteers with training so they are able to maintain the area and also identify and record amphibian and reptile species. The pond restoration and terrestrial improvements have meant that Epping Forest now has a water body that is not only perfect for breeding amphibians but also a beautiful wetland creation that is accessible to the large numbers of visiting public.
Project Category: Nature Reserve
Grant Value: £38,036
Grand Awarded: September 2019
Project Completed: October 2020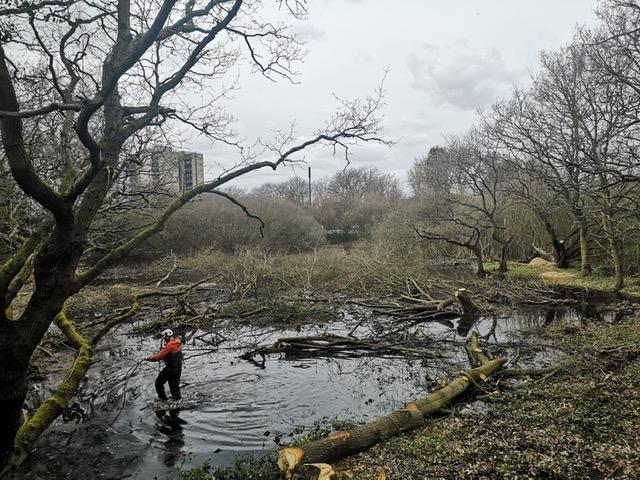 *The Landfill Communities Fund is a tax credit scheme enabling operations of landfill sites in England and Northern Ireland to contribute money to organisations enrolled with ENTRUST as Environmental Bodies (EBs). The Veolia Environmental Trust is a qualifying EB and as such is able to use this money to fund community and environmental projects.