It's a real dilemma. Your incumbent waste management company isn't living up to your service expectations, but the thought of switching suppliers fills you with dread.
What if they withdraw their waste containers too early?
What if the new supplier isn't quite ready to take up the reins?
Could a service interruption affect your compliance?

We feel your pain which is why we have all the systems and solutions in place to make sure switching from one contract to another is seamless.
Switching Waste Contracts -
Pain or Gain?
David Ceney, Commercial Manager, Veolia UK talks about how the fear of a poor mobilisation can be a barrier to change and how our expert team can deliver a seamless transition.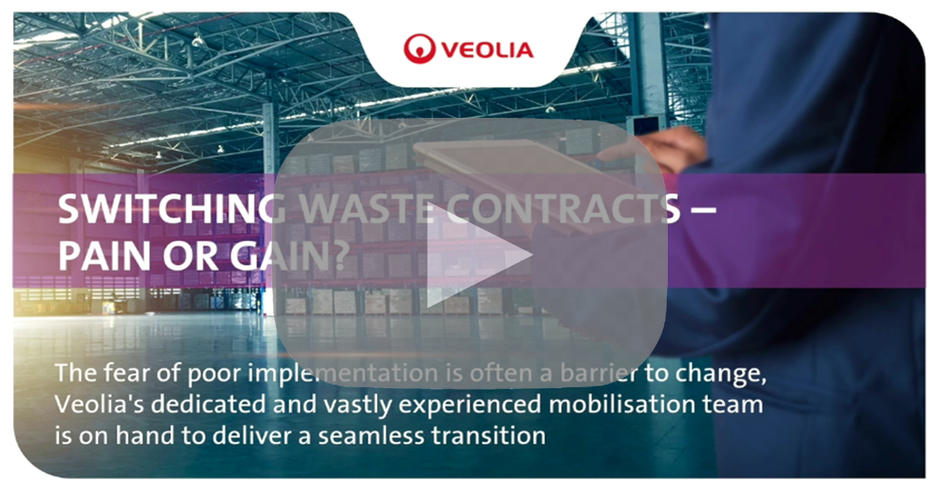 A SMOOTHER SWITCH
We can mitigate the pain of change for your business by carrying out a detailed audit and risk assessment of your warehouse and depot infrastructure to ensure that your operations, employees and visitors are safe on site at all times. It also allows us to anticipate any problems before they arise. 
Once we are fully informed with all the facts, we can create new service schedules that will suit the exact needs of individual sites. Everything from aligning waste and recycling containers to predicted volumes, to arranging collection dates and times that will have the most positive impact on your parcel delivery operations. For example, if you receive the most package and parcel returns on a Tuesday, we can synchronise that with your cardboard collections, so you don't have to worry about stockpiling waste. Health and safety is our priority. Stockpiling can lead to hazards such as fires, so we'll ensure your site is cleared and safe for operational staff working there.
Once a new contract has been agreed, we'll create a clear roadmap outlining the whole process from pre-planning to deploying our mobilisation team. And you can rest-assured we'll be in touch every step of the way. Our proactive account management team will be in regular contact to manage your expectations and ensure that everything is being carried out to your complete satisfaction. 

WELCOME TO A BETTER WAY OF WORKING
To get our relationship off to a great start, we'll also provide you with a comprehensive customer welcome pack to explain all your different waste containers, how to use them, and set out clear instructions for your collection schedule. That way you can also engage your workforce prior to mobilisation and manage their expectations too. And by working in partnership with you, we can be sure that your new system will be robust, resilient and meet all your demands.

NO PAIN, MORE GAIN
Taking the pain out of switching contracts takes clear communication and a great deal of trust. We'll do whatever it takes to ensure we tick both boxes. That's the benefit of opting for one supplier across multiple sites. With one point of contact across multiple operational sites, we can take care of the changes needed for a smooth transition, leaving you to manage the day-to-day running of your business. So you can look forward to all of the pros of switching – and none of the cons.
HOW CAN WE HELP YOU?
Find out more about the pain-free way to switch your waste management partner.
Our experts are always on hand to deal with your request.