New contract secures a sustainable future for J D Wetherspoon Plc
From its Curry Club, Fish Friday and Quarterly Real Ales, J D Wetherspoon is famous for its food and drink. To ensure everything from potato peelings and coffee grounds are handled sustainably it has appointed Veolia, the UK's leading resource management company, to increase its recycling and divert all of its waste from landfill. Following successful mobilsation, the food waste stream will now be used to produce green energy, while increasing recycling rates and reducing general waste using advanced technology.
To help J D Wetherspoon give food waste the chop and save costs, Veolia has implemented the food and coffee ground recycling scheme that will result in approximately 11,500 tonnes of food waste avoiding landfill and help J D Wetherspoon reach their 100% diversion target. It will also provide 3,450 [1] MWh of renewable energy each year - enough to keep 1,641 beer fridges cool [2] or power 35,937 lights [3] running for 24 hours a day all year round. This contributes to the UK's renewable energy targets, while reducing greenhouse gas (GHG) emissions.
Veolia's contract is set to cover the entire J D Wetherspoon Plc estate consisting of approx. 900 pubs, hotels and bars. Services will include: food waste and glass recycling as well as general waste and J D Wetherspoon will have the option to utilise Veolia's data insight to drive resource efficiencies, including:
Individual recycling and waste collection data, for site specific recycling and diversion performance monitoring
On-board computers and handheld devices that deliver ad-hoc collection tasks to teams in the local area
Route optimisation tools to ensure the associated carbon footprint of vehicles is constantly monitored and improved
And a 24/7 customer hub enabling access to performance monitoring, so customers can take control of site specific data and analysis. The hub also incorporates an instant chat messaging service, providing an additional communication option direct to Veolia's customer service team.
Estelle Brachlianoff, Senior Executive Vice-President Veolia UK & Ireland:
"It is vital we treat unavoidable food waste sustainably and recognise both the environmental and economic benefits that can be produced by converting it into 'green energy' as part of a wider recycling scheme. As one of the most well-known names on the High Street, we're proud to be working with the team at J D Wetherspoon and supporting them in achieving their goals of zero waste to landfill and protecting the environment by taking care of their recycling and general waste sustainably."
Wetherspoon's contractor performance manager, David Willis, said:
" Wetherspoon is committed to leading the hospitality industry into a sustainable future. In line with our work with the Sustainable Restaurants' Association, we take very seriously our commitment to minimise waste and opting for recycling wherever possible.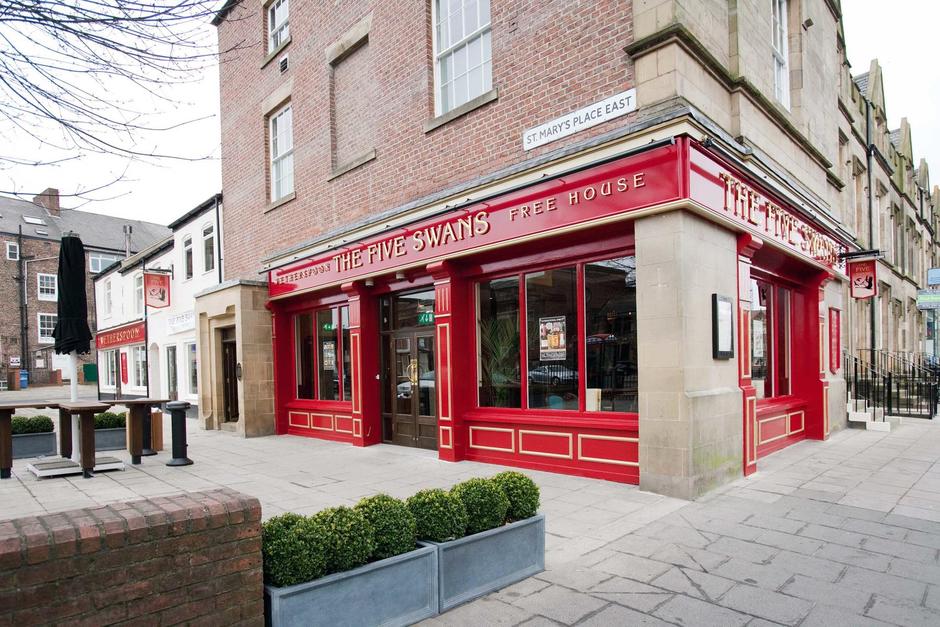 We are pleased to highlight our commitment to a genuinely sustainable future by entering into partnership with Veolia UK for the management of our general waste, food waste and glass recycling.
We are proud to announce our goal of zero waste being sent to landfill by the end of 2018, a target that we are well on the way to achieving.
Currently ten per cent  of the United Kingdom's waste is exported to the EU and to Asia for processing, further adding to the carbon footprint of the producer. All Wetherspoon waste that is managed by Veolia will be managed within the UK, further reducing the carbon impact of our pubs and hotels.
In addition we are also continuing to innovate in partnership with Veolia UK to enable wider use of our recyclable products, increasing the amount of sundry items that are manufactured from recycled products such as drinks trays or garden furniture."
---
The latest WRAP figures reveal the UK wastes 10 million [4] tonnes of food annually, with approximately 17% [5] of this produced by the hospitality and food service industry. Unlike Scotland and Northern Ireland – where there are regulations that require food waste to be collected separately for anaerobic digestion – most of England's food waste is still sent to landfill [6]. From the hospitality and food service industry alone this has a value of over £861 million [7] in landfill costs and is associated with around 209 million tonnes [8] of CO2 on an annual basis.
Veolia collects food waste on behalf of thousands of customers up and down the country which directly or indirectly affects millions of people – whether it's via their Council, at work, or out and about.