'Circular economy' is a phrase we are all used to hearing. Simply put, the circular economy aims to turn all waste products into a resource, by reintroducing them to the production cycle at the end of their useful life.
But the full potential of the circular economy model is really demonstrated when old items are given new life in the most unexpected of ways.

Fridge to phone
One such project is Veolia's work with Thales, a global leader in advanced technologies, to give old refrigerators a lease of life as eco-designed SIM cards. Almost 4.5 billion SIM cards were produced worldwide in 2020. With clear potential for this market to show its green credentials, experts from both Veolia and Thales have jointly developed a process to enable SIM cards to be produced without using the almost 5,000 metric tonnes of virgin plastic a year that is currently used.

Firstly, the polymer plastic found in high concentrations in waste electrical and electronic equipment such as fridges is processed at Veolia's recycling plant in France. Thanks to the new process, this recycled material is then able to be used to manufacture SIM cards that meet the mobile industry's requirements. As well as eliminating the need for a large amount of virgin plastic, this new Eco-SIM card also has a neutral carbon footprint, as the CO2 emissions from the manufacturing process and electronic components that cannot be recycled are fully offset by Thales' comprehensive carbon offset programme.
We can now process 100 grades of plastic from industrial,
commercial and household sources.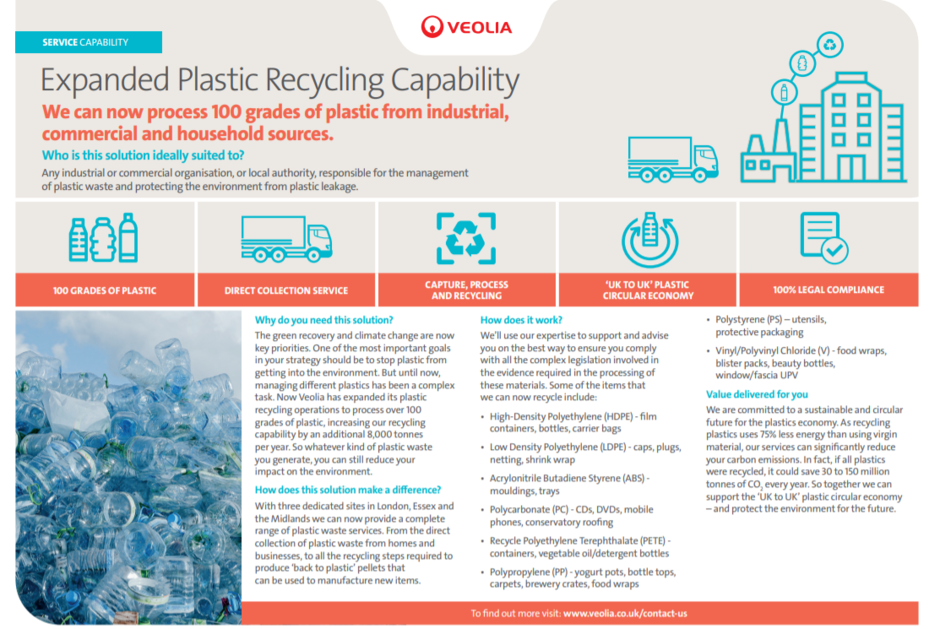 A new life for old objects
As we seek to minimise resource consumption and reduce, reuse and recycle as much as we can, it's crucial to find ways to repurpose items that are no longer needed. Another recent example of this is Veolia's work with a popular fast food restaurant chain, who needed to dispose of plastic toys after making the decision to stop giving them away with children's meals.

Thanks to our developing capability to recycle difficult to treat plastics, we were able to implement a solution that turned the toys into playhouses, Christmas baubles and more.
How can Veolia help you?
Does your business need help to improve the recyclability of your products?
Find out more about how we could support you to implement the circular economy.
Plastic has become a hugely contentious issue in recent years, with more awareness being raised about the problem of plastic leakage into the environment.
Plastic has undeniably been the most headline-grabbing material in recent years in terms of its environmental impact. What has been achieved so far in terms of increasing its sustainability, and what more needs to be done?
When implementing a closed-loop system in a business it is vital to implement a structured recycling stream, here we are breaking down some of our top tips to boost your business' recycling rates.